My Natural Good Earth dolls are sure to land at the top of every little girl's wish list.
This natural cotton rag doll comes perfectly packaged in a reusable, recycled cardboard gift box.
Made safely without harmful chemicals.
Size: 12″ (30.48 cm)

Description / Benefits
100% natural materials including cotton and plant and mineral dyes
Hypoallergenic, eco-friendly, and natural.
Premium quality cotton velour in bright colors.
Safely made free of harmful substances and toxic chemicals.
Machine washable.
100% baby safe.
Comes in Recycled Gift Box.
Designed with love in Brooklyn.

Country of Origin
www.mynaturaltoy.com. Designed in the U.S.A.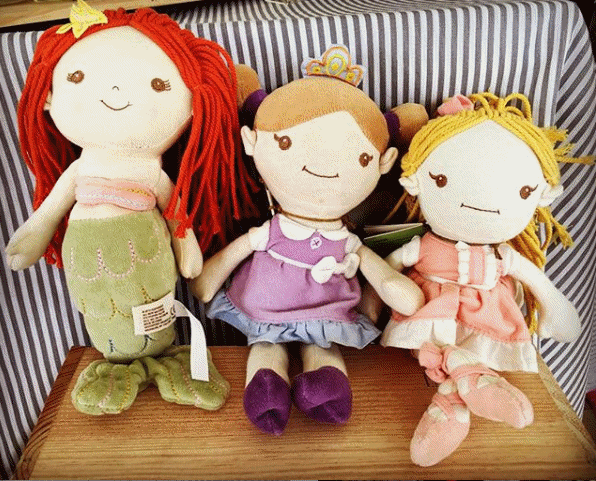 Brand Story

My Natural ™ is a New York Greenpoint Brands company's Infant Toys brand, Greenpoint Brands is controlled by two families with infants and young children of parents founded, founder Serah and Petrie their personal experience to fully understand the parents needs with the baby, so is committed to providing the beloved baby more lovely, safer, healthier infant products. In love over their baby, the baby is considered more leave a good and healthy environment is also not shirk responsibility, all product design process are caring for the environment as a mission, and promised to provide environmentally friendly toys together.
My Natural ™ is in this concept was born, inspired by nature, from the bright color elements, animals and doll protagonist styling composition, are associated with nature, providing baby and parents close to the natural elements, and 100% safe health Toys, under the guidance of education of parents, let the baby have the opportunity to understand the importance of caring for the environment in childhood.

Product manual
Plush Collection natural pure cotton doll series
– The first baby doll appease accompany, just the right size for holding baby
– To dress up all kinds of animal shapes bright colors stimulate baby visual sense hair
– Particles underfill different feel and sit alone function
– Cute baby doll entertaining and useful features
– Comfortable velvet touch, a full range of environmentally friendly natural cotton and hypoallergenic material source
– Non-toxic and environmentally friendly dyeing process is the most secure baby playmates!
– The use of environmentally friendly recycled paper carton packaging system
– For all ages
Switzerland OEKO-TEX®Standard 100 Product Class I: 3 years old infant safe use standards (eco-Tex Standard 100) is the world's most authoritative and most influential ecological textile label, the textile and clothing products to detect the human health effects indicators, is an independent testing and certification system.
BV Certified Non-Toxic 16CFR 1500.3 (b) (%) and (8) (FHSA regulations): 100-year-authoritative testing unit BV (Bureau Veritas) certified as compliant with the provisions "of the Federal Hazardous Substances Act," the United States is non-toxic and does not contain FHSA the eyes and skin of harmful irritants
Super Confidence – toy brands rarely do these two authentication Oh!
Global Organic Textile Certification Standards
(Global Organic Textile Standard, GOTS) is recognized worldwide as the most stringent organic textile certification standards, the certification standards to ensure that organic textiles from harvest to raw materials, post-production process and the final product standardization, so as to ensure that the textiles in the manufacturing process on the environment friendly attention, and give consumers peace of mind can buy and trusted organic textiles.
Size
11 inches (28 cm)
Material
Certified organic cotton, filling polyester fibers, hypoallergenic, non-toxic and environmentally friendly dye process
Operate and maintain
Recommendations for individual bagging machine or hand wash in cold water washing to dry naturally, do not use detergent containing bleach and chemical
Cotton doll Make sure completely dry state collection, avoid moldy produce.
Origin 
New York Design Made in: China